Skip to Content
Essential for Endorsement and Affiliate Promotions
FTC Endorsement Disclosures are Key to Remaining Compliant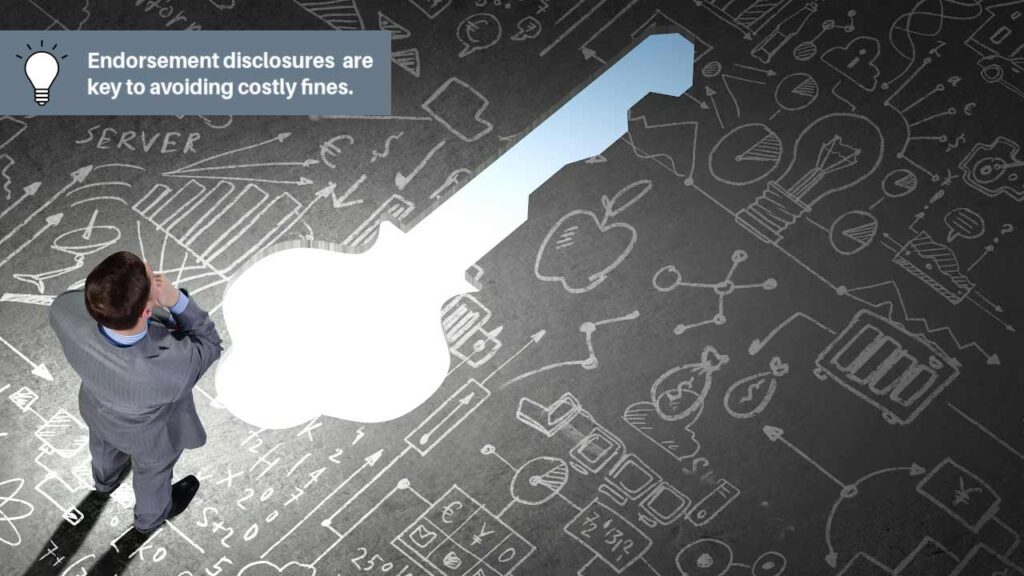 It's easy to get excited when a celebrity talks about a subject – endorsements from public figures work. However, the Federal Trade Commission (FTC) makes it clear that endorsements – of any kind for any product/brand – must be stated. Similarly, the FTC requires that "affiliates" of a company – endorsers who get a share of sales made from their promotion of the product or service – provide an affiliate disclosure.
Alas, companies and celebrities continue to receive fines for failing to understand this basic premise. Often, brands and the celebrities that endorse them don't even know they are supposed to provide an endorsement disclosure in the first place.
Commercials used to be the primary way advertisements reached the public. In that closed environment where a lot of equipment and know-how is required, professionals are aware of the necessary disclosures that needed to be made. It's important to remember new arenas like cryptocurrency are subject to the same rules and regulations of traditional business verticals. This also applies to social media platforms which aren't "new" anymore but continue to struggle to know which rules and regulations apply.
Social media is an open environment giving every person – celebrity or not – a platform to share their likes and dislikes. Millions of people are on social media, so there are bound to be goofs – it's just too bad when these mistakes also come with hefty fines:
Lindsay Lohan "agreed to pay $30,000 in fines in addition to the $10,000 she earned for the promotion," and Jake Paul "agreed to pay $75,000 in fines on top of the $25,000 he earned." https://www.cnn.com/2023/03/22/investing/lindsay-lohan-jake-paul-crypto/index.html
The FTC's endorsement and affiliate disclosure rules are built around a basic "truth-in-advertising" principle designed to protect the public from deceptive or unfair business practices. Not knowing someone has been paid to tout their preference or use of a product is deceptive. The FTC doesn't only apply the need for disclosures to receiving a sum of money to endorse a product; they also require disclosures when people enter a sweepstakes on social media. An entrant becomes an endorser for a brand when they enter via a social media platform because their friends and sometimes people beyond their friend network can see this activity. While an entrant isn't being paid money, he/she is participating for the chance to win something of value (i.e. the prize) and this needs to be disclosed.
When a prize is on the line everything shifts into more closely resembling an advertisement. This is why state and federal rules, laws, and regulations must be adhered to, but you have to be aware of them first. Awareness can come from seeing the costly mistakes other brands have made but wouldn't it be better if it came from hiring a specialist in the field? Hint, hint: if you want to run a sweepstakes on social media, find a reputable sweepstakes administration company to make sure you don't unintentionally violate a law you didn't know existed.